2008
Romantic Comedy
Director
Oxana Bichkova

Duration
108 minutes

Starring
Madeline Dzhabrailova,
Dzhetro Skinner, Pavel Derevyanko,
Artem Zhimolohov, Vladimir Ilyn,
Miroslav Karpovich, Elena Simonova,
Evgenii Tsiganov

Awards
Gold Turo Award, Oxana Bichkova
(2008 Window to Europe Film Festival)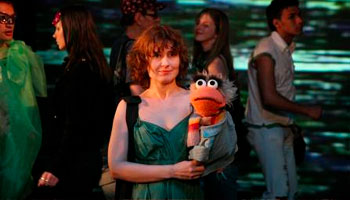 Plus One is a wonderful romantic comedy about letting go for love.
30 year old Masha is totally engrossed in her work, and shuns human contact, burnt from a failed marriage. However when she is offered a job as a translator to assist a visiting Londoner, her world is opened up to the potential of new love.
Tom Greenwood is in Moscow to present a seminar for a puppet show. His meeting with Masha changes both their lives forever, as they learn to let go of old hurts and mistrusts, falling in love, trying to understand each other, and simply allowing themselves to be happy.