2008
Drama/Comedy

Director
Karen Shakhnazarov
Starring
Alexander Lyapin, Lidia Milyuzina, Egor Baranovsky, Ivan Jupreenko, Olga Tumaikina, Armen Jigarkhanyan, Vladimir Ilyin

Duration
105 minutes

Facts
Initially the film was titled Born in the USSR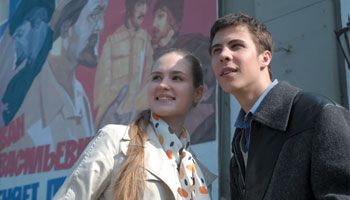 Set in Moscow at the beginning of the 1970's, The Vanished Empire depicts the heyday of the Soviet State at the peak of its power, which also marks the starting point of its collapse. Shakhnazarov's new and rather personal film is a delicate study of this imminent and irrevocably passing era.
At its heart is the classic love triangle, as two friends vie for the heart of one girl. Their lives revolve around black market Rolling Stones albums, parties, parents and queuing for vodka – ordinary events in the heartland of communism.
It tells a warm and very real story of young love set against the backdrop of student life in the 1970's, at a time when it seemed the USSR would last forever.
With a career spanning 25 years, The Vanished Empire is the culmination of Shakhnazarov's work to date and represents the jewel in the crown of one of Russia's most celebrated Directors.